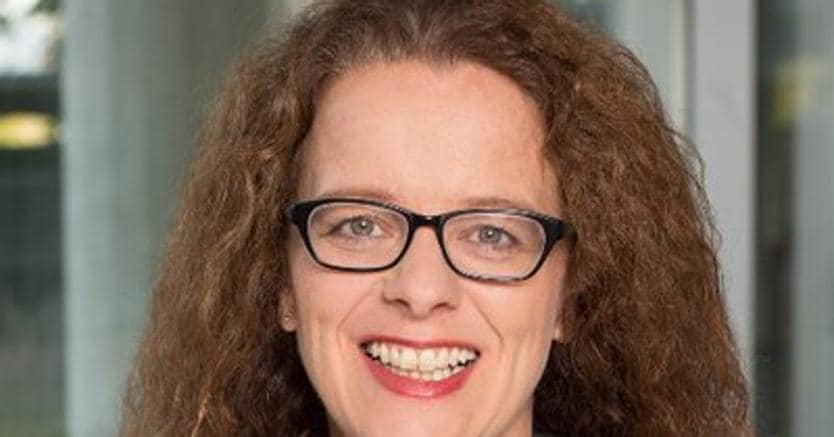 Prof. Isabel Schnabel is member of the German Council of Economic Experts: she was appointed in June 2014. She is specialized in the study of financial markets.
Professor Schnabel lectures in Financial Economics at the Rheinische Friedrich-Wilhelms-University in Bonn, is a research affiliate at the Centre for Economic Policy (CEPR) and at the Max-Planck Institute for Research on Collective Goods. She is also Deputy Dean of the Graduate School of Economics, Finance, and Management (GSEFM)
The German government seems to encourage a merger between Deutsche bank and Commerzbank.Do you think such a merger is a good idea? And what is your opinion about politics interfering with market-oriented decisions such as banking M&A?
This is industrial policy. It shows clearly that German politicians still think in national terms, and they are not the only ones, in Europe most politicians still think in national terms about banks. In general, I believe it is a bad idea for politicians to intervene. Banks should take their own decisions and bear the costs. Regarding this particular merger, I am not convinced it is a good idea: why should these two banks do well together? Commerzbank has a reasonable business model, but it suffers from low profitability. When market conditions normalize and interest rates rise gradually, profits could do better. DB appears to have deeper structural problems, and I doubt it can solve them with a merger. On the top of this, I would warn against creating an even bigger bank thereby exacerbating the too-big-to-fail problem. This is against the spirit of post-crisis regulation, which has introduced special rules to deal with failing banks. If anything, we need more cross-border mergers in Europe. But this is hampered by fragmented regulation and supervision.
Is the German banking system unable to solve its weaknesses? it does not look able to keep up with modern times. The German three pillar system looks medieval, backward…
One should not forget that this system weathered the crisis relatively well although many of the larger banks were affected quite severely. But the three-pillar system consisting of public banks, cooperative banks and private banks has important structural implications for the German banking market. In particular, there cannot be mergers and acquisitions across pillars. Inside the first two pillars, competition is limited. The public sector owns the savings banks at the municipal level and the Landesbanken at the regional level. This system explains in part why private banks in Germany are not so profitable because large parts of the retail and SME market are dominated by savings and cooperative banks.
Germany's private banks are weak. But Germany goes further: it is making the whole of the European banking system weaker. Banking Union is a European project, it is badly needed, but Germany is holding it back, Germany is pulling the breaks.
I would not blame this on Germany alone, other countries including Italy are blocking progress as well. But it is true that banking and financial matters are not on the top of the German government's agenda. I think this is a mistake.
Yet Germany does have a position on the Eurozone reform agenda: it is opposed to risk sharing unless risks get reduced first. But Italian banks' NPLs/total assets ratio has gone down a lot: isn't this enough?
On NPLs, I would like to make two points. First, I would not overestimate the progress, which is largely driven by the benign macroeconomic development. Let's be frank: in the next recession, NPLs are going to go up again. What is more important than the level of NPLs is banks' provisions against future losses. So a long-term solution for NPL provisioning has to be part of the deal. Second, it is unthinkable that risks and losses that have already occurred can be mutualized, for example in a European deposit insurance: no one would enter an insurance that covers a risk that has already taken place. From this perspective, it makes sense to start with risk reduction. However, both sides should be committed to their targets. Being committed means that when risk reduction takes place, risk sharing should take place accordingly. We need a clear road map on this, which doesn't exist at the moment: without it, risk reduction becomes a moving target. But I must say, NPLs are not the most important issue: the regulation of sovereign risk exposures of European banks is the key issue for Banking Union. This is a sensitive and difficult issue, but it's the key issue.
Why do you say so?
After the crisis, euro area politicians decided to break the link between banks and the states, because it had amplified the crisis. But we haven't achieved this at all. Among others, German and Italian banks have a very high concentration in domestic government bonds. Risk is hidden in this high concentration: if there is a crisis in one state, and a risk of default, this is going to be concentrated on one state's banking system, which may then spill over to other banks and other states. We have to make sure that European banks hold diversified government bond portfolios. Such portfolios could be spared from capital charges. In order to avoid destabilizing effects of the new regulation, we need transitional rules and long transitional periods, you cannot achieve this from one day to the next. There again, we need a road map.
As we wait for road maps that we do not have, does the Eurozone have the right tools to be resilient to the next Big Crisis?
There is some slow progress. I am in favour of the fiscal backstop, an ESM credit line, given to the Single Resolution Fund. And I'm in favour of a special precautionary credit line by the ESM which could be triggered without the stigma of current programs, with strong ex-ante conditionality. But this is just a start, further progress is needed. What I worry about is the ECB's role in a future crisis. Although its crisis management was overall quite successful, the ECB was overburdened to manage the Great Crisis. Politics did not take the decisions so the ECB had to take them. It was very important to give liquidity freely to banks after the Lehman collapse and the OMT announcement clearly had a stabilizing effect even if it has been sharply criticized in Germany. Politics gave the entire responsibility of crisis management to the ECB but this is not sustainable. Why do I say so? Because in the next crisis, the ECB might not have the same tools to manage a crisis. QE is close to the limit of how many government bonds the ECB can buy, especially for German bonds, and interest rates are already very low.
The capital key is a limit that Germany has imposed on QE…
Yes, and limits could be stretched, but this would be very controversial politically. And the credibility of the central bank must be preserved. Therefore it is not clear if the ECB will be able to play the same role it played in the management of the Great Crisis. If the ECB had exited its ultra-loose policy earlier, it could already have built some space. Of course, exit will be difficult: when interest rates will start to rise, asset prices may fall. Banks may also be hurt. Although rising interest rates are welcome to increase bank margins in the medium term, in the short run refinancing rates will go up, which depresses banks' interest margins. Hedging contracts against such interest rate risks may not be fully effective due to counterparty risk. So the sun is still shining in the European economies, but we start to see dark clouds and risk assessment is going up.
Which risks to you see?
Well, the risk of a fully-fledged trade war, crises in emerging markets, Brexit, …
Markets are not too nervous. Not yet. They rely on forward guidance.
Yes but the ECB's forward guidance is not very clear: we do not know much about how interest rates will be raised from negative levels, we only know that interest rates will not increase until next fall. We do not know anything about the reinvestment policy of the ECB on the assets purchased in the QE programme. And this lack of clarity is a risk itself.

Prof. Isabel Schnabel is member of the German Council of Economic Experts: she was appointed in June 2014. She is specialized in the study of financial markets.
Professor Schnabel lectures in Financial Economics at the Rheinische Friedrich-Wilhelms-University in Bonn, is a research affiliate at the Centre for Economic Policy (CEPR) and at the Max-Planck Institute for Research on Collective Goods. She is also Deputy Dean of the Graduate School of Economics, Finance, and Management (GSEFM)
© Riproduzione riservata