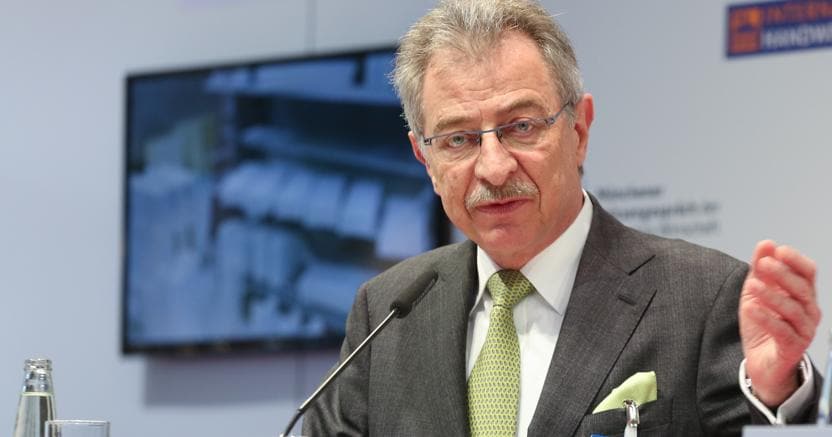 1.Which are the main challenges that the German industry, the Italian industry and overall the European industry will have to face in the future? European Industry needs and wants to remain competitive and lead globally. First of all, the European Single Market needs to be completed. Europe needs a modern industrial strategy 2030 and sustainable progress on deepening the Economic and Monetary Union (EMU). European manufacturing and industry lives from its capacity to innovate, offer new solutions and more efficient production processes. In this context, digitisation or more specifically Industry 4.0 has to be strengthened. Manufacturing businesses will have to adapt and claim leadership in investing into training staff and optimizing business models.
However, there are also many external challenges for our societies: starting from a new kind of protectionist trade strategy of our biggest trading partners US and China, ending with security and migratory issues. I'm convinced that Europe is not the problem, but the solution or catalyst for solutions to many questions that we are exposed to as Germans, Italians or Europeans.
2.How important is Italy as a trade, industrial, economic partner for Germany and German companies?
German and Italian manufacturing are already very well intertwined. It is maybe less known that the sectors producing the most industrial gross value added are the same in both countries, for example: machinery and equipment, pharmaceuticals and chemicals, metal production.
Furthermore, Germany is the biggest trading partner of Italian companies a sixth of Italian imports comes from Germany, while an eighth of Italian exports goes to Germany. A challenge we need to face together both German and Italian industry is the digital transformation of manufacturing known as Industry 4.0.
Also from a policy perspective, our partners in Italy, Confindustria, follow a hands-on approach and have similarly to the BDI ambitious views on industrial policy in Europe. That is one of the reasons why we are going to meet once a year in Bolzano with high ranking business representatives to discuss common priorities in Europe.
3.How big is the digitalization challenge?
Take for example the issue of cybersecurity: more than every second German company has been the victim of a cyberattack in the last two years. The damage caused by sabotage, data theft, hacking attacks and fraud is estimated for Germany alone at 55 billion Euros.
The increasing digital networking of the economy and society generates huge volumes of data that can no longer be analysed by people alone. Artificial intelligence and machine learning is hence a key enabling technology in reaching the next stages of digitisation. The EU should in our view create an ecosystem of industry, science and society to support the development and application of AI.
Europe also must deepen and expand the digital single market. It is a necessary precondition for making optimal use of digital innovations. Moreover, the EU has to establish clearer regulation of digital platforms. Platforms are increasingly providing services that compete against conventional services. In individual cases they are subject to different and lower regulation. Conventional and new digital services providers must be subject to the same regulations if they provide comparable services, in order to avoid market distortions.
4.BDI issued on September an important paper on Europe, where you urge Europe to do more for the Union: which are the European priorities, from your point of view?
We Europeans have to strengthen our Union both internally and externally. The European single market is in some sectors still far from complete. Little has been done to improve the framework conditions for private investments, the expansion of public infrastructure, innovation levels, productivity growth, opening up of product markets and the entrepreneurial environment.
The European monetary union has to be made bulletproof. There needs to be progress on a fiscal stabilisation fund for the euro area, serving as a cushion to the Union and member states. A country qualifies for the fund, if it complies with the EU regulations on economic and fiscal policy. Furthermore, the EU should support reforms by setting the right incentives. The new budget of the EU – the multiannual financial framework – should require member states to align with the country-specific recommendations issued by the European Commission.
I am convinced: The EU has to strengthen the European Stability Mechanism (ESM) and to complete the Banking Union. A uniform deposit insurance scheme needs also to be on our priority list. However, it has to be very clear, that a common framework for risk reduction and risk control must to be installed before it comes to risk sharing. Progress is also required on creating a true Capital Markets Union.
On a geopolitical scale, with the enactment of the European Defence Fund (EDF) and of the Permanent Structured Cooperation (CSDP), the EU now has the instruments and processes required to strengthen its security architecture. Still, they are underdeveloped. We therefore demand that Europe steps up its collaboration in security and defence policy. For example: we have to push ahead with joint equipment development and procurement projects. The EU has to increase its defence spending. Industry should be included in talks on European cooperation projects at an early stage.
5.In this paper, you urge European countries to boost productivity through reforms, reduce imbalances: what is the piece of advice you would give to Italy in this respect in this particular moment, as the Italian government is seeking to boost growth with more public spending and higher deficits?
Several previous Italian governments pursued pro-growth reforms while advancing the consolidation of public finances. This should be continued. Of course, it must occur within the fiscal rules of the EU. Reducing burdens of corporate taxation or enhancing a basic income scheme are choices of the new government. However, it is very important that this is done within the leeway of the European rulebook. The aim must be to strengthen the sustainability of growth and public finances. This is not a matter of principle or an end in itself – but to maintain prosperity and employment on our continent in the long run.
6.How important is free and fair global trade?
Global trade and investments are a major driver for growth and innovation. In Germany, every fourth job depends on exports, in manufacturing even more than every second. On average each billion euros of EU exports supports 14,000 jobs across Europe. EU exports support more than three million jobs in Italy alone. About 90 percent of global economic growth in the next ten years is expected to take place outside the EU. Cross-border trade will become even more important. Open and rules-based global markets are key for the economic prosperity of our continent.
Our companies need a reliable, global trading environment without trade conflicts and protectionist state interventions. The modernization of the World Trade Organization WTO and its dispute settlement procedures are top priorities for us. Equally important are efforts to avoid damages in the transatlantic trade relations. The United States will remain our most important political and economic partner. Having in mind the current political circumstances, we appreciate any agreement that is in line with multilateral trade law and that facilitates trade between the EU and the US instead of making business more complicated.
If we talk about "fair trade", I should also mention that open market economies like the EU are challenged by China's state-capitalist approach. There is no alternative to levelling the playing field to enable our companies to compete with heavily subsidized companies from China. We need new rules and procedures at home in the EU, on global markets via the WTO and in China, e.g. via the bilateral investment treaty that is currently under negotiation.
Finally, bilateral free trade agreements are a crucial tool for the EU to open new markets. They promote high European standards around the world. The first modern trade agreement with Korea has been a major economic success for Germany and Italy. EU exports to South Korea grew by 77 per cent from 2010 to 2017. Faced by global trade conflicts, the EU and its members states are able to create new business opportunities and send a strong signal against protectionism: Let's put the trade agreements with Japan, Singapore and Vietnam into practice quickly!
7.Looking forward, as we live in very competitive times, how can the State help the industry to be more competitive?
The most immediate problems differ from country to country. Corporate taxation must be lowered in many EU countries to remain competitive with the US, clearly in Germany. Reducing administrative burdens and an efficient judiciary do help, too. In Germany, public infrastructure and efficient broadband access remain a concern.
8.On October 2019 Mario Draghi's mandate will end. What is your assessment of the ECB handling of the Great Banking Crisis and Great Recession, the biggest since World War II?
The recovery of the last years and the uptick of inflation rates show the positive impact of the ECB's policies. The euro area as a whole has been growing for five years, Italy started to grow in 2014, Greece in 2017. Credit access is much easier today than several years ago. Low interest rates have clearly fostered investment. I therefore conclude that the ECB did its job properly. However, the ECB has been the "only game in town" in handling the crisis for too long. Economic and fiscal policy of the member states was not coordinated with some focussing on austerity and others on fiscal expansion. Furthermore, the creation of a Banking Union and of institutions like a European Monetary Fund to complete the Economic and Monetary Union took and still takes too long. As a matter of urgency, the BDI demands more speed in preparing for the next economic downturn. The banking sector is still vulnerable, which is an obstacle for the European economy that relies on bank credit to a large extent. Unfortunately, progress in the European Capital Markets Union is limited. We do not expect the normalization of monetary policy to cause financial instability. The ECB's forward guidance on its policy has been very clear since the start of quantitative easing. I expect this approach to be continued.
© Riproduzione riservata